Backkk
Next Page
Carnegie Hall is a concert venue in Midtown Manhattan and is home to many great musical achievements.
Many famous muscians as well as regular muscicians have performed here, and so has many other talented artists
have presented their work.
Times Square lies in the pit of this eminent city. Located in midtown Manhattan and is one of the highlights of visiting New York.
This is known as the "heart" of the city since it is always busy and full of flashy, and interesting attractions such as theatres, and stores
to shop at. It is also where the ball drops every New Year's Eve.
Central Park is located in New York, New York and is one of the urban wonders of the world, a green oasis in the great concrete, high-rise landscape
of New York City. It is so naturally part of the Manhattan environment that many people may not realize it is entirely man-made
-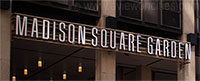 Manhattan's current Madison Square Garden - often referred to simply as "The Garden" or MSG is the fourth building to share that name. The first two were located at Madison Square (Madison Ave. and 26th Street), hence the name, but the last two have been situated elsewhere.